Embroidery Kits
sea captain embroidery kit
Overview
cozyblue embroidery kits include everything you need to create your own hand embroidered hoop.

the pattern design is pre-printed on 100% cotton fabric, so there's no need for transferring or tracing. just pop the fabric in the hoop, thread your needle, and start stitching!

these make easy and wonderful gifts. crafty friends, family, teachers, and co-workers will love them. or treat yourself, and have fun stitching something awesome.
embroidery is a great way to slow down, get cozy, and get crafty.

Product Details
each kit contains:
pre-printed (in color) fabric pattern
coordinating embroidery floss
needle
wooden hoop(s)
full color card with image on front and stitching notes on back
my 'getting started with hand embroidery' guide and instructional how-to for my favorite basic stitches
finished design is sized to fit nicely in a 6" hoop.
Fine Print
these patterns are my original design and are for personal use only.
you may not sell items made from these designs.
the patterns may not be reproduced or shared.
© cozyblue
what's inside an embroidery kit
oh, just a few of my favorite things! each kit contains:
• pre-printed (in color) fabric pattern
• coordinating embroidery floss
• needle
• wooden hoop
• full color card with image on front and stitching notes on back
• a 'getting started with hand embroidery' guide
• an instructional how-to for my favorite basic stitches
Shop Embroidery Kits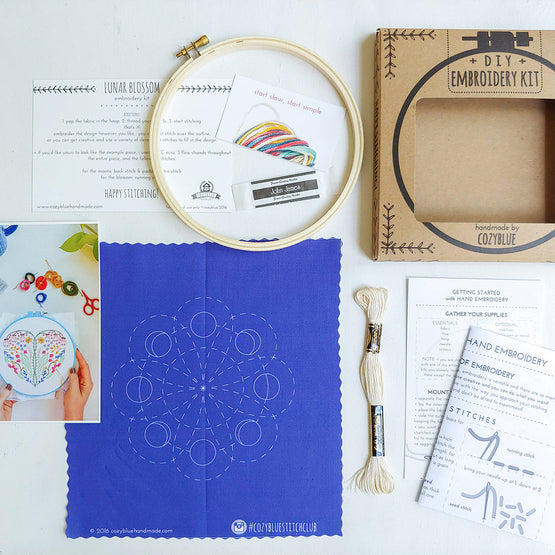 ONE THREAD WONDER
I got started with these kits as a gift for our daughter who has a nautical room in her house..In addition I've done Whale of a Time and the Sea Captain's wife.. She loves them and proudly displays them for all to see. I think the Captain was my favorite to stitch. I think since thaat time I have done at least 15 more, different kits for friends and family.
My first!
I do believe this was my first cozy blue embroidery. I have it to my daughter and she loves it. I have done quite a few kits and have loved every single one! Never a disappointment.
AMAZING PATTERN!
I LOVE all of these kits and patterns, but the Sea Captain, Sea Captain's Wife, and the Whale are my FAVORITES. I completed all three to make a little "trio" to give to my parents for their 30th wedding anniversary. (One for each decade and child). I was so excited to finish these for them and the sea captain was just so cute to share. I have bought many of these kits and each one is my new favorite. Overall, if you're waffling on if you should get one of these or not - THE ANSWER IS YES! They are well made, easy to follow, approachable, and look so great when you're done. It can be intimidating to get started with embroidery, but it's wonderful once you get started. I recommend this pattern and all of her other patterns! I have to tell myself I can't buy all of them because I only have two hands and can't make them as fast as I want to! Highly recommend and I hope you consider trying :)
Just a joy.
I purchased this and two other kits a while ago now and I'm so pleased I did. Not only did I love making each one up, I have actually framed these and have them displayed together they look great and continue to bring me joy. They get a lot of comments from visitors too. The fisherman is hands down my favourite make for both process and outcome.
Tiny Treasure
I've been embroidering for many years..Mostly larger items like tablecloths,pillow cases,dresser scarfs,Christmas stockings and etc.It was so nice to pick up a smaller item and complete it in days.Such satisfaction..Everything you need is in the package to complete each kit..Love them and have another order in right now.